Rosses Point is home to the tradition of seafaring songs in Ireland and casts off the annual celebration with a concert in Sligo Yacht Club on Saturday, March 14.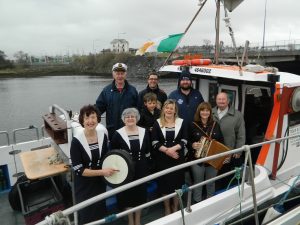 The evening, which starts at 9.30pm, is a fundraiser for the Rosses Point Shanty Festival. The annual summer event attracts performers and visitors from throughout Europe. This year the festival runs from Friday, June 19, to Sunday, June 21, in the village.
Launching the upcoming concert were Eight Bells on board the new vessel of seafaring man Daryl Ewing. Eight Bells are an all-female troupe of shanty singers. Some of the singing "crew" are pictured on Daryl's new boat, the Sarah Marie, at Sligo docks with friends and supporters. Eight bells is also a nautical term to signify the start or end of a watch on board ship.
Singer Ann Mannion, pictured front left with the bodhran, is one of the main organisers. She said: "We urge people to come along to the concert in the yacht club. Tickets are only €5 and it will be a great night. We need funds to organise the festival and this is a big help towards the annual costs."
Ann and her fellow "Bells" will be performing on the night along with other local favourites such as Ian Bordley and Comhaltas na Mara. It will be an informal session with plenty of opportunity for other singers to join in.
Tickets can be bought in advance from Harry's Bar and the village shop, both in Rosses Point, but you may also pay on the door.
The Sarah Marie, pictured for the launch, is the fourth boat in Sligo Boat Charters' fleet. Daryl's new craft cruises at twice the speed of the others and has double the deck space of Sea Star. Daryl says that "joined with my family experience, past success, and over 50 years of chart-plotting marks, this craft will prove the newest and finest boat in the Sligo fleet to watch".