Taoiseach Enda Kenny may have met protesters and hecklers in Ballymote on Saturday, but in Rathcormac Village Market his reception was warmer and wittier.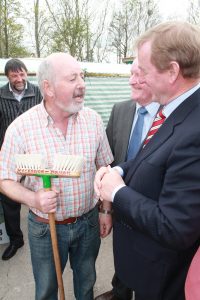 Cos Cos dancer Kevin Cuniffe (pictured above), from Ballinasloe, Co. Galway showed the Taoiseach his 'Recession Brush' which he said, has the bristles removed in the middle "so as not to sweep away the white line in the road". And, with a bit of cajoling, the Taoiseach even got on Kevin's home-made dance platform, for a quick shuffle.
From the market, the Fine Gael leader went to the local school hall to witness more Cos Cos dancers, part of the festival held in the North Sligo village last week.
For more on this and his visit to Ballymote for US Civil War monument unveiling, pick up a copy of this week's Sligo Weekender newspaper. In shops now.