Many music stars have performed on the Hawk's Well stage, but few have the pedigree of Albert Lee, who plays at the venue this Sunday, May 24 at 8pm.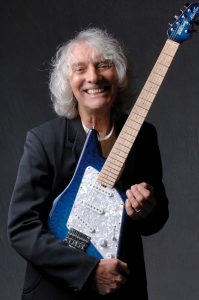 Albert Lee, by common consent one of the world's finest guitar-players, needs no introduction to Country Music and Rock fans.
He has worked with some of the world's top artists, from Emmylou Harris to the Everly Brothers, Dolly Parton to Eric Clapton.
In November 2002, at Eric's request, Albert appeared at the star-studded Memorial Concert for George Harrison at London's Albert Hall, and was featured alongside Sheryl Crow, Vince Gill and Eric Clapton at Eric's 2007, 2010 and 2013 Crossroads guitar festivals.
He is also a member of Bill Wyman's Rhythm Kings, and fronted the band at the O2 arena on the night of the Led Zeppelin reunion concert.
Albert is a double Grammy award winning musician, whose talents continue to be in demand by fellow performers the world throughout.
For his Sligo appearance, Albert will be joined by Hogan's Heroes. This multi-talented band features some of the top musicians in the UK. Hogan's Heroes was formed by their namesake Gerry Hogan almost 30 years ago, specifically to back Albert. Their first gig took place in 1987 at Gerry's annual festival for pedal steel guitar.
They have played together on a regular basis since that time, and as a result have become one of the tightest units in music.
Hogan's Heroes are: Gerry Hogan (Pedal Steel Guitar / Dobro / Guitar); Peter Baron (Drums / Vocals); Doña Oxford (Keyboards / Vocals); Chris Palmer (Bass Guitar / Vocals).
Tickets for Albert Lee and Hogan's Heroes are €20 and can be booked through the theatre box office on 071-9161518 or online at www.hawkswell.com