Abbey Haven Care Centre and Nursing Home, Boyle celebrated Nursing Homes Week in style on Friday last with the very talented singer Eleanor Shanley and Eurovision winner Charlie McGettigan.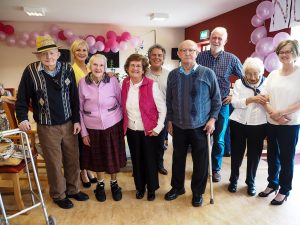 Eleanor and Charlie took time out of their busy schedules to sing and entertain the residents, family and staff. They started the afternoon with old favourite songs of Delia Murphy which included "If I were a Blackbird" and "The Spinning Wheel".
Charlie sang an Ernie Ford song "Sixteen Tons" accompanied by lovely harmonies by the crowd. Other songs included "The Galway Shawl", "Lovely Leitrim" and many old favourites.
Residents sang along and enjoyed a lovely afternoon with the sunshine adding an extra lift to proceedings.
The music session continued with Frank Feerty providing music for dancing. Finger food and light refreshments were served and the whole evening finished on a high note.