A County Sligo B & B will feature in a new TV series involving singer Daniel O'Donnell.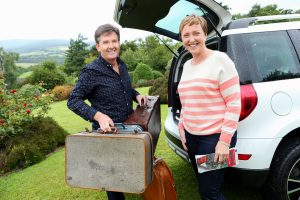 The new six-part UTV Ireland series called 'Daniel and Majella's B&B Road Trip' is being billed as a reality travel programme with a difference.
Daniel and his wife Majella take to the open road in a Skoda Yeti (Skoda are sponsoring the programme) and visit sites of natural beauty, all while staying in B&B accommodation.
Their B&B hosts will act as tour guides, showing them around the area as well as sharing stories across dinner and breakfast tables.
The series was filmed over two weeks in July and is to air in October.
The Donegal man said the show will serve to showcase places close to his heart and deliver, in a quirky way, an image of real Irish people for would-be visitors.
"We had an idea to put together a show that visits Ireland as opposed to encouraging people to travel outside the country. We wanted to show the areas that we love," he said.
"In my early days I stayed in B&Bs an awful lot, when we toured dances around Ireland. It just seems like a great way to show off the country because you are meeting the local people as well. If you stay in hotels you don't necessarily meet the real Irish people," he said.
One of the places to feature on the trip is Moy River B&B near Cloonacool. The well known south Sligo guesthouse is run by Rita Normally and Pat McCarrick.
The programme will also feature Daniel and Majella on a trip around Lough Key Forest on segways.