He may have been kicked off our TV screens when he exited Strictly Come Dancing on Sunday night, but Daniel O'Donnell will be back on our telly on Monday next with a new show.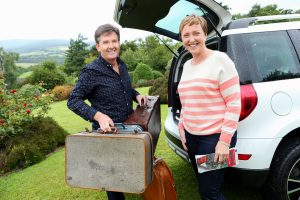 The much anticipated "Daniel and Majella's B&B Road Trip" will kick-off exclusively on UTV Ireland on Monday at 8pm.
The first episode of the series sees Daniel and his wife Majella arrive at the Moy River B&B in Cloonacool, County Sligo, owned by Pat McCarrick and his wife Rita – a nurse who works with people with intellectual disabilities.
The Moy River B&B is in its infancy and as well as having a hectic schedule looking after the house, Pat and Rita specialise in making home-made bread, jam, biscuits and granola.
In the evening, Pat and Rita often host seisiúns in their 19th century restored cottage. Pat sings and plays harmonica. Both he and Rita are part of the local Strawboy group, so Daniel and Majella feel right at home during their stay.
As well as enjoying a sing-song, the group also bake soda bread over the open fire in the cottage.
The six-part travel series will show Daniel and Majella embark on a journey across Ireland, staying in B&Bs and delving into activities organised by the B&B owners.