The Honey Bee's, Jim & Amy and Jessie Solange will play a concert in the Riverside Hotel on Friday, November 27 at 8pm.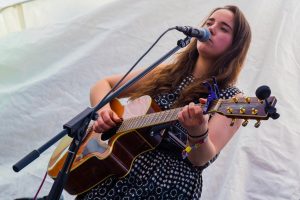 The "Soak up the Music" event is being organised by Domestic Violence Advocacy Service [DVAS], who said that all of the money raised on the evening will go directly to women out of home because of domestic violence or women who have no recourse to public funds.
A spokesperson for the DVAS said: "Previous fundraisers have been very well supported and the money raised has been vital in enabling DVAS to continue to provide emergency support to women and children at risk.
"Without access to small amounts of money, many of the women we work with would be forced to return home to abusive and violent partners or could not access the legal protection they need. DVAS are inviting people to come along to have a great night and at the same time to make an investment in the safety of women and children."
The Honey Bees coin themselves as a Tin Pan Alley Jazz Band with Clio Quinlan playing the violin, Mark Murphy on the piano and Margo Barrow on vocals. Jim & Amy describe their music as folk meets jazz, with irreverent, quirky and funny lyrics.
Jim Meehan plays the guitar and the bouzouki, while Amy O'Hara does vocals, writes the music and also plays guitar. Jessie Solange is a songwriter, violinist and guitarist. Her music draws from influences such as Joni Mitchell and John Martyn and fans have described her music as "strong yet delicate, powerful but restrained, with an emotional maturity of expression beyond her years".
Finger food, mulled wine and this eclectic mix of music will be included in the ticket price of €12 (€10 concession).
Tickets can be purchased by through the "Soak Up The Music" page on Eventbrite, or at the door. Updates can be found on the Domestic Violence Advocacy Service Facebook page, and also on the "Soak Up The Music" event page.