Murson Farm is on the fringes of Grange village.
The farm produces a whole host of products including home made jam, soda bread, honey, cheese, eggs and more.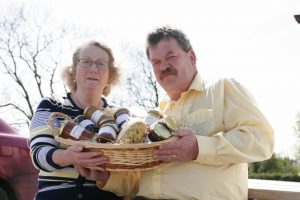 Murson Farm is the passion of Ciaran and Coeurine Henderson, who moved to Grange in the early 2000s.
The couple began their enterprise by selling eggs through an honesty box at their door. From there they looked to expand and began by doing small competitions.
Ciaran would bring his sheep to shows such as Grange agricultural show while Coeurine entered her jam into the competition.
The jam went down well with judges and people alike so from there the couple decided to expand to markets and now have a regular weekly spot in the Rathcormac market as well as monthly in the Strandhill People's market.
Although you would not think it, Coeurine has no background in agriculture and while Ciaran has held an interest in land and animals from an early age, it was not until the couple moved to Grange that they were truly inspired to do something in that line of work.
"From an early age I always wanted to get involved with animals. I grew up in Rosses Point and I was with Jimmy McDonagh from an early age, or Larry McGowan and Bertie Kivlehan. As well as that I had family with a farm in White Hill in Riverstown so I always had that interest," Ciaran said.
For Ciaran and Coeurine's full story plus more from the community of Grange as part of our Weekender in the Community series, see this week's Sligo Weekender- in shops now.
Murson Farm- the best of local produce

,