A 16 year-old member of Sligo Aero Club recently became one of the youngest people ever to have flown solo from Sligo airport . . . but has ambitions to go much higher.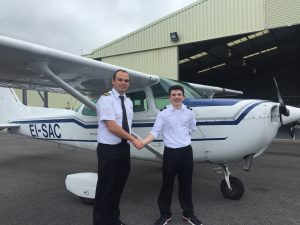 John Gerard Killeen flew his first solo flight from the Strandhill airport on Saturday week last, July 30. He is the youngest person to have flown in Sligo in a number of years.
The minimum age that anyone is allowed to fly solo in the Cessna 172 aircraft he was using is 16 and John Gerard is not much beyond that, having just turned 16 on April 19 last.
With 9 hours 10 minutes flying time put in he was over the 6 hours minimum required, but he told the Weekender he didn't expect to be taking the plane up on his own when he arrived at the airport that day for a lesson with his instructor Aaron Dineen.
"We were doing a circuit operation around the airport, which is basically take-off and landing. Then one time we landed the instructor got out and said, 'away you go'".
But he said he wasn't nervous about taking the plane up on his own.
"I was okay, I was that focused that I didn't think that much about it at the time. It took a while to sink in.
"It was a great experience to be up in the plane on your own. It is hard to describe unless you have done it", he said.
For the full story see this week's Sligo Weekender newspaper – in shops now, or see our digital edition which is available on our homepage.