The English Channel was not just conquered last week, it was tamed in a battle that Poseidon himself would quake at, as Sligo-born Clodagh Murray, from Larkhill Road, swam 21 miles / 32 km from England to France on Sunday 14 August.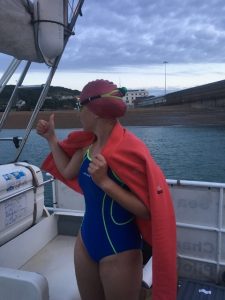 Swims across the channel are logged and verified by the Channel Swimming Association, and since 1875, less than 1,370 people have successfully made the journey solo – on average that's less than 10 per year.
Clodagh battled through choppy water and jellyfish stings to achieve a time of 10 hours, 51 minutes and 30 seconds, and credits messages from supporters, communicated to her on a whiteboard by her good friend Bernice Garrett from the boat, with keeping her going until she reached Cap Gris Nez near Calais at around 4.40pm.
"Bernice was really good at keeping me in good spirits, the last couple of hours were really tough but the messages of support really helped.
"I took the whole swim 30 minutes at a time so that I wasn't thinking about how long I was in the water overall.
"My family never laughed, or told me that I couldn't do it when I said I wanted to swim the Channel, they've always been very supportive and encouraging, and that self belief and the mental side of things is as important as the physical aspect. I did a lot of yoga as part of my training and that really helped with the mental preparation as well as keeping my body injury-free."
Trinity College Dublin medical student Clodagh first decided she wanted to swim the channel at around 10 years old after being told that family friend Kieran Fitzgerald had done it, and together with her her coach David Warby and open water swimmer Lynsey Dunne, had lots of guidance from him during her training, which included the Lough Gill Hospice Swim and Warrior of the Sea.
Her swim time broke the record for the fastest Irish woman to complete the challenge – until a Dublin woman arrived 30 minutes later to claim the title, but Clodagh is more than happy to be the second fastest Irish woman to swim the English Channel.
There are no immediate plans her to do any more big challenges as she concentrates on completing her final year in medical school but when asked what lies ahead after that, she said: "It's like a bug, once you get bitten you want to do it again, so who knows?!"
Swim star Clodagh dived into the Channell challenge

,