O'Connell Street in Sligo closed to traffic on Monday and will remain so until November 30.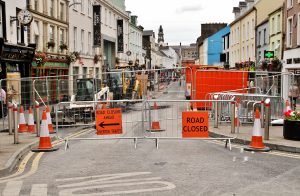 The closure is for Irish Water to carry out a €1.25m scheme which will include the replacement of approximately 510 metres of water main and the rehabilitation of 210 metres of Victorian culvert sewer.
The works will extend into some of the adjoining streets specifically the junctions of O'Connell Street/John Street/Grattan Street and O'Connell Street/Lower Knox Street/Wine Street.
The street will be open to pedestrians at all times and there will be access for deliveries between 8am and 12 noon from Monday to Saturday.
The junction with Grattan Street and John Street will also be closed from 7pm to 7am from September 5 to 16 and at the other end, Lower Knox Street will be closed from 7pm to 7am from September 19 to October 14.