The Department of Housing, Planning, Community & Local Government informed Sligo County Council on 3rd October that it is 'prepared to sanction in full for the recruitment of all six staff requested.' The sanction is for four permanent staff and two contract staff for a period of six months.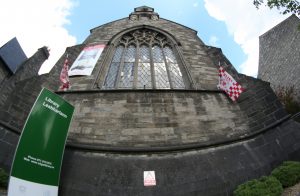 A public notice concerning the recruitment of the additional Library staff will be placed shortly.
As the recruitment process will take some time, a series of temporary 'rolling closures' affecting Sligo's Branch Libraries in Sligo, Ballymote and Tubbercurry will continue pending the appointment of the additional staff.
Sligo County Council regrets the ongoing disruption to the service, but can reassure Library Members and the general public that full services will resume once the staff have been recruited.
In light of rolling closures, revised opening hours for Branch Libraries until mid December 2016 are listed below, for review at that time.
Please note that the Mobile Library and Enniscrone Library services will operate as normal.
Corporate Services
Sligo County Council
5th October 2016
Details of revised library opening hours October 11th – December 17th 2016
Sligo Central Library
Opening Hours October 11th – December 10th 2016
Tuesday, October 11th to Saturday, October 15th
Tuesday, October 25th to Friday, October 28th
Tuesday, November 8th to Saturday, November 12th
Tuesday, November 22nd to Saturday, November 26th
Tuesday, December 6th to Saturday, December 10th
Opening Hours: Tuesday to Friday 9:30am – 5:15pm
Saturday 9:30am – 5:00pm
Ballymote Community Library & Tubbercurry Community Library
Opening Hours October 18th – December 17th 2016
Tuesday, October 18th to Saturday, October 22nd
Tuesday, November 1st to Saturday, November 5th
Tuesday, November 15th to Saturday, November 19th
Tuesday, November 29th to Saturday, December 3rd
Tuesday, December 13th to Saturday, December 17th
Opening Hours Ballymote: Tuesday, Wednesday, Friday 9:30am – 5:00pm
Thursday 9.30am – 7:00pm
Saturday 9.30am to 1.30pm
Opening Hours Tubbercurry: Tuesday 9:30am – 7:00pm
Wednesday, Thursday, Friday 9.30am – 5:00pm,
Saturday 9.30am to 1.30pm