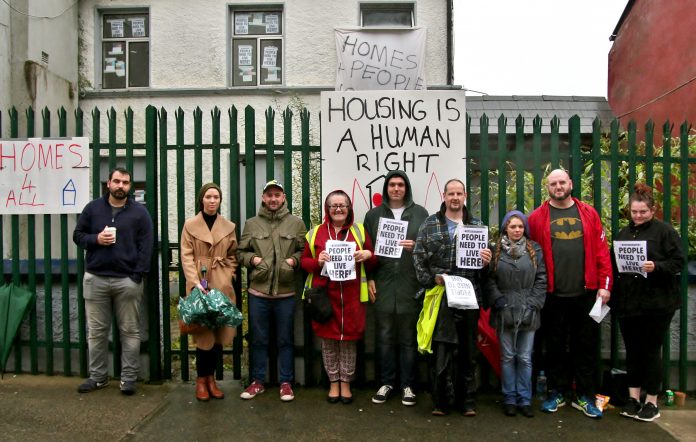 PEOPLE Before Profit campaigners occupied a vacant building in Sligo town this week in a protest over a shortage of social housing.
Members of the group, including the party's local county councillor Gino O'Boyle, occupied the building on Old Market Street for a number of hours on Tuesday as part of a nationwide campaign to highlight the issue of homelessness.
In a prepared statement, the group said: "We are protesting here today to highlight the issue of homelessness in our local community, and to show solidarity with people who are homeless as well as other groups trying to represent them across the country."
The group highlighted the "32,764 residential properties in County Sligo, 6,571 of those are vacant. That's a vacancy rate of just over 20% (20.1%)".
Cllr Gino O'Boyle said that the hidden homeless figures in Sligo are most worrying.
"A lot of people don't see those who are couch surfing and staying with somebody else. It is a very unfortunate way to be. What happened this week with the stillborn babies is shocking but not surprising. We have similar things happening in Sligo that are not always getting reported. This highlights the vacant properties here in Sligo.
This property is vacant for eight years and this effects all of society. Members of the Traveller community have problems getting houses but so too have other young people and the elderly," Cllr O'Boyle said.
For more on this story, see this week's Sligo Weekender newspaper – in shops now!
Alternatively, you can purchase an online edition here
Vacant property occupied by housing campaigners

,