The Swell Summit, a free day-long event for the web, creative and start-up communities in the North West, will take place in Sligo Airport on Saturday, 31 January.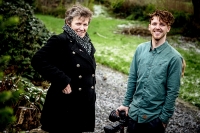 With a blend of keynote speakers, workshops and informal 'notworking' activities, the Swell Summit is designed to spark collaboration and inspire individuals to execute their ideas. It is hoped that this and subsequent Swell Summits can become the No. 1 'Ideas Conference' in Ireland.
The Sligo Airport terminal building in Strandhill, now a relatively sleepy location since the termination of scheduled flights in 2011, will host the event.
Speakers include illustrator Annie West, adventure photographer Christian McLeod, founding editor of the world's largest surf forecast website Magic Seaweed, Ed Temperley and digital marketing expert Damien Mulley.
Shona Heffernan of Sligo LEADER Partnership said they were "delighted to fund Swell Sligo to enable the creative, web and start-up communities in Sligo to collaborate and learn from each other".
Organiser of Swell Sligo, Aoife Porter of Bua Marketing said "Every night of the week there is a networking event in Dublin; we set-up Swell Sligo to offer people in the North West something interesting to go to without having to travel. We have an array of great speakers offering real-world insight into the mechanics of creativity, web and enterprise."
Swell Sligo is funded by Sligo LEADER Partnership under the LEADER Rural Development Programme. Tickets for the Swell Summit are now sold out and a waiting list is now in operation. For full information, visit www.swellsligo.com and you can also follow updates via the hashtag #swellsummit