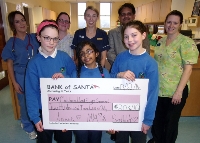 Three enterprising kids from Carbury National School succeeded in raising over €200 before Christmas which, last week, they presented to the Children's War of Sligo Regional Hospital.
Fourth Class Students Mia Harmon Clinch, Anushka Pathak and Sadbh Timmons Hennessy set up a Christmas stall with home-made goods at the IT Sligo Christmas Market in December to raise the funds.
They also organised a raffle, with the Hickey's Parmacy Group sponsoring a beautiful hamper as top prize, for the market and their Christmas stall was provided free of charge by Guy Marsden.
The students presented the cheque for €203 to the staff of the Children's Ward, who were very thankful for their efforts.