The Hawk's Well Theatre, Sligo has just announced its summer season, offering a jam-packed programme from May through to August 2015 offering the best there is in theatre, music, dance, family fun, comedy, talks, visual arts, workshops and courses to the people of the North West.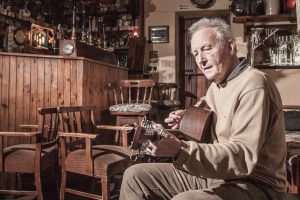 Director Marie O'Byrne said: "We are delighted to present our new programme which is packed to the rafters with something for everyone. This is festival season and we are delighted to collaborate with Sligo Jazz Festival, the Tread Softly festival and Fleadh Cheoil to provide top acts for Sligo people and visitors to the North West this season.
"Theatrical highlights include two performances of 'The Man in the Woman's Shoes' by Mikel Murfi, originally commissioned by the Hawk's Well and Sligo Arts Service in 2012; 'DruidShakepeare' from Druid and the Abbey theatre's production of 'Maeve's House'.
"We have lots of musical treats in store and are looking forward to hosting two very special Kieran Quinn Film theme nights featuring Sligo Academy of Music Sinfonietta in May. We are delighted to welcome back our own production with Fidget Feet Aerial Dance Company 'The Second Coming' for both the Tread Softly festival and Fleadh Cheoil and look forward to a fantastic line-up for Fleadh Cheoil 2015."
Local drama groups will be busy over the summer also with Sligo Drama Circle bringing back their popular production of "Moll" by John B.Keane in July while Beezneez present their new play "Thy Will Be Done" also in July.
There are plenty of musical treats on offer this season, with May performances from Freddie White, Mick Flannery, Albert Lee and Hogan's Heroes and English folk singer Sam Lee in a double bill with Sligo's own The Out of Towners.
The theatre also hosts two Kieran Quinn Film Theme nights featuring Sligo Academy of Music Sinfonietta in what promises to be two spectacular nights of music. In June the Hawk's Well hosts the world premiere of Téada's show inspired by the poetry of W.B. Yeats, "Where Benbulben Sets the Scene". The Hawk's Well celebrates local music maestro Donal (The Dude) McLynn also in June with proceeds on this fantastic night of music going to St. John's Hospital. Lúnasa, one of the finest trad Irish instrumental outfits of recent times also perform in June.
Festivals kick off in July with Sligo Jazz Project celebrating 10 years of world class jazz performance and education. The Tread Softly festival sees performances from String siblings The Kane Sisters and The Hayden Brothers and Swing Sligo – where Sligo's Tabby Callaghan and a top class band of superb musicians led by Kieran Quinn bring the swing era back to life.
The 56th Yeats International Summer School will be the highlight of the national year of celebration to mark the 150th anniversary of the birth of W.B. Yeats. The summer school runs from Sun 26 July – Fri 7 August.
Events for young children include The Elves and the Shoemaker from Fidget Feet Aerial Dance Company and The Way Back Home from Branar and two summer camps – BrickFlicks Pirate and Anything Goes Music Camp from Music Generation for older children. Local performing arts schools Chapel Lane and Victoria Walker Dance will also hold performances at the theatre.
The Hawk's Well has teamed up with the Kitchen Restaurant at the Glasshouse to offer a great night out for an unbeatable price. Avail of a three-course meal and a ticket to a variety of shows at the theatre for €39.50. Visit www.hawkswell.com for more details. A Casa Mia is also offering a fantastic pre-theatre deal of 4 tapas and a bottle of wine for €40 when you show your Hawk's Well tickets.
Brochures are currently being distributed throughout Sligo and the North West. To get a copy call 071-9161518, drop in to the Hawk's Well or download a digital copy by visiting www.hawkswell.com