Two unforgettable summer nights in the grounds of Lissadell House – five years ago this weekend – have made it onto the list of the 50 Greatest Irish Gigs, as compiled by Hot Press.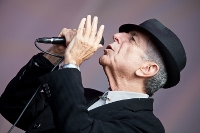 The latest issue of the iconic music magazine has compiled a list of the best concerts and festivals ever witnessed on these shores, with the likes of Nirvana, Taylor Swift, Thin Lizzy and, of course, U2 among the acts who impressed the Hot Press writers the most.
And included in the list – to find out how high you'll have to buy the magazine – is Leonard Cohen's two back-to-back concerts in a specially erected stage in the front garden of Lissadell House, held on July 31 and August 1 in 2010.
The concerts, staged by MCD promotions, sold out over the Saturday and Sunday nights, bringing 10,000 people to each one, where Cohen gave them their money's worth by playing for over three hours on both nights.
Of the concerts, the latest edition of Hot Press says "The memory of hearing Cohen pay tribute to WB Yeats in the heart of Sligo is that little bit special. Reciting lines from the stage, we could all see he was visibly moved."
And, while the list of 50 gigs has been compiled by the Hot Press staff, they are inviting the public to share their memories of the concerts.
If you want to wax lyrical about Cohen's epic concerts, then visit www.hotpress.com/top50gigs and take it from there.