A fashion design student from St Angela's College in Sligo is a finalist in the Young Designer of the Year competition.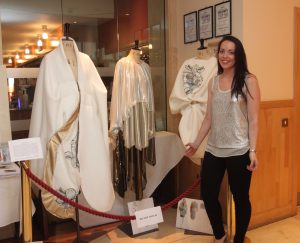 Emma Curtis, a second-year student of BA Textiles, Fashion and Design is one of 12 students from colleges around Ireland whose work was featured in the Dublin Fashion Week 'Young designer of the Year' competition outside the bank of Ireland in College Green, Dublin, last month.
Emma's cape-style coat is one of the three designs which formed her mini degree collection from the second year of her BA in Textiles, Fashion and Design with Business Management degree in St. Angela's College.
The theme for her work was 'The Cloths of the Ocean'. The movement and shape of the mussel shell is reflected in Emma's coat-cape which is made with white neoprene and gold leatherette with a light weight lining with a hand painted print.
The white neoprene drape dress was printed with a hint of gold leatherette and imitates the different shell shapes and movement within them. The three toned chiffon dress with gold leatherette cuff and rolled hem was inspired by the scallop shell. Each piece comes together creating a clean elegant look.
Emma's designs were also featured in an exhibition in the Radisson Hotel on Thursday, June 12 at the Yeats' Nobel Dinner, and her dress was one of the final ten in ladies day at the Galway Races this July.
The final 12 designers took part in a spectacular catwalk show outside Bank of Ireland on College Green on Wednesday, September 9.
The designers' pieces were showcased in front of an invited audience of key fashion influencers including press, fashion buyers and established designers, as they competed for the title of Young Designer of the Year in one of Ireland's largest and most renowned fashion events.
This is the third year of the three-year BA in Textiles, Fashion and Design with Business Management in St Angela's College. Although there are other fashion or textile design focused courses in Ireland, this is the first course where students can study fashion, textiles and design along with the much needed business management for this competitive industry.
The expertise of experienced lecturers who have worked in the industry, such as local designers Rebecca Marsden and Anna Faye contributes to its uniqueness. See www.stangelas.nuigalway.ie for further information.