Many bands aspire to enter the public conscious with their music, but few ever achieve that lofty goal.
We all remember one-hit wonders who blaze onto the scene with a hit song and fade into obscurity. When The Saw Doctors scored a massive hit with their second single "I Useta Love Her" in 1990 it was unlike anything else in the charts and perhaps some thought they would quickly fade away.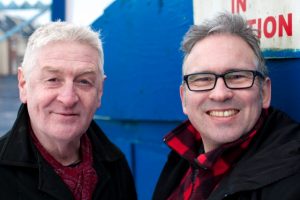 But 26 years later the two men who penned that hit, and many more besides, are back together reflecting on a great career that shows no sign of slowing down.
Davey Carton and Leo Moran will play in Sixth On Teeling on Friday, April 1. They will be performing a handful of shows around the country together before reforming with the full Saw Doctors band for more shows.
It is testament to this songwriting partnership that the band's first single, preceding their breakout Number One hit, is now the song for which they are probably best known. "N17" is a lament to leaving their home town of Tuam, Co. Galway to emigrate to America.
Like so many Irish songs of emigration, it touches on the sorrow of leaving, but it does it in a way which sounds as fresh now as it did almost 30 years ago.
And, it is a song which has found a new resonance with the mass migration of young people from Ireland since the economic collapse of 2008.
"In some ways "N17" seems to be a historical kind of an idea in the middle of all the so called prosperity," Leo Moran told the Sligo Weekender.
"Now it's become current again. Emigration these days is probably even a bit more serious than it was at the time. There's probably more people gone. People are going further away as well.
"Things have changed alright but hopefully it will give us a chance to visit a few more of them, wherever we can go."
More from Leo and details on the gig in Sligo can be found in this week's Sligo Weekender- in shops now.