As the snow which covered Sligo for the past couple of days gave way to a storm "Rachel" last night (Wednesday) weather forecasters are warning that when the winds ease we could be back to the Arctic-like conditions next week.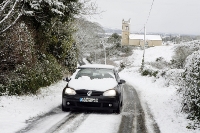 The heavy accumulations of snow resulted in treacherous road conditions, which led to the closure of many schools and the cancellation of some sporting and social events throughout the county on Wednesday.
Wet and windy conditions are to continue over the next couple of days, but we could have some wintry showers.
And generally cold conditions seem set to persist well into next week, with further threats of snowfall from time to time.
More details on this week's weather, the outlook for the next few days, and pictures of a snow covered Sligo can be found in this week's Sligo Weekender- out now.