Celebrated British folk singer Sam Lee will perform on a double bill with Sligo's own Out Of Towners at the Hawk's Well on May 28.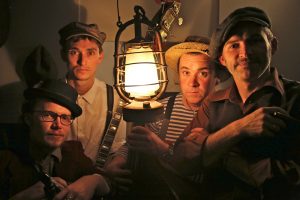 Since bursting on to the folk scene at the end of the Noughties, Sam Lee has blazed a trail as an outstanding singer and song collector, the driving force behind the eclectic, award-winning folk club The Nest Collective.
The club has brought traditional music to all kinds of new stages and venues, and founder of a burgeoning song collectors' movement that inspires a new generation of performers to draw on living source singers rather than books and records.
How many traditional English folk singers do you know who come from North London, studied at Chelsea School of Art, worked as a forager and wilderness expert while moonlighting as a burlesque dancer?
It was a chance encounter which led Lee to the door of the great Scottish Traveller singer Stanley Robertson, and an extraordinary four-year apprenticeship into the arcane, living world of traditional song that few outside the Traveller and Gypsy communities have ever experienced.
Sam Lee and his band comprise cellist Francesca Ter-Berg, trumpeter Steve Chadwick, violinist Flora Curzon, percussionist Josh Green and koto player Jonah Brody.
"Sam Lee is one of very few to achieve a real emotional punch with moving simplicity," wrote The Wire music magazine, while The Observer described him as "one of Britain's finest singers and the most cogent force of his generation in British folk music".
Lee is a 21st-century artist, collecting new versions of old songs on his iPhone and laptop, but his repertoire is steeped in the reek and smoke of folk history and lore, its tales of love, parting, exile and murder bound by a sympathetic magic still resonant today, parting the veil on vivid scenes from our islands' deep history.
Awarded the 2011 Arts Foundation prize and nominated for the 2012 Mercury Award for his debut album, 'Ground Of Its Own', he has taken his music worldwide to more than 20 countries, appeared in Peaky Blinders on TV, and joined The Unthanks to commemorate the Great War at the Barbican in London.
Sligo band The Out of Towners are first up before Sam Lee and will take you down a sun scorched road through the desert of Australia.
The songs written by singer and guitarist Ollie Alcorn are inspired by years of travelling his homeland of Australia in a campervan and are a journey of his own experiences of this time.
Leap forward a few years… now a smooth sounding four-piece folk and blues band based in Sligo, Ollie started playing accompanied by fellow 'out of towner' Robert Naczas on harmonica and 'DaShtick' (electric hurley stick).
Dominic Callaghan and Brian F Devaney both joined later to complete their sound with bass and cajon. The band have recently released their debut EP called "Day Dreaming", Check out their new video "Setting Sun" on Youtube.
Tickets for Sam Lee and The Out of Towners on Thursday, May 28 are €15 (€7.50 conc.) with a special 'Go See' price for Under 18s of €7.50 and are available from the Hawk's Well  Theatre on 071-9161518 or www.hawkswell.com.