The launch of the official programme for the first annual Sligo Festival took place in Kennedy's Bar last weekend.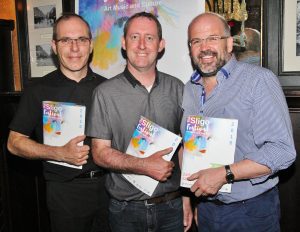 The event was attended by a capacity crowd of figures from across the local art and political scenes who have lent their support to the festival.
Rory Concannon and Karl Kelly, two of the organisers, spoke briefly once again about their ambition to bring a new annual summer fair to the county which showcases Sligo's rich culture through a plethora of platforms including street performances, exhibitions, family events and live concerts.
The 34-page programme covers every aspect of the festival down to the finest detail and promises to cater to all tastes.
Trad enthusiasts missing the party atmosphere of the Fleadh can look forward to two weeks of music sessions across the town, beginning in Thomas Connolly's this coming Monday (July 25 and August 2), followed Shoot The Crows (July 26 and August 2), Lillies Bar (July 27 and August 3), McGarrigles (July 28 and August 4), Early's Bar (July 28, July 30, August 4 and August 6) and Foley's Bar (July 30 and August 6).
If you have ever been curious about the art of crafting beer, then there will be a unique opportunity right on your doorstep as Thomas Connolly hosts an introduction to craft beer and craft beer tasting on Thursday, August 4 at 5pm.
Photographers will also have an opportunity to get creative as the Sligo Pic Fest returns. The online photography competition welcomes entries from everybody, with the only stipulations being that they show Sligo at it's best and that photos are uploaded to the Sligo Festival Facebook page accompanied by the tags #sligopicfest and #sligofestival. There a prizes to be won along with the finalists having their photos framed and displayed in venues around the town.
The competition opens this Sunday (July 24).
Family's looking for a day of fun need look no further on Sunday, July 31 when O'Connell Street will be closed to traffic to host a range of exciting activities including interactive galleries, puppet shows, face painting, street and music performances.
The Blue Raincoat Theatre will be active throughout the festival with performances at the Factory Theatre (1.10pm on weeks from July 25-August 5), The Sligo Courthouse (12 noon-6pm on July 30).
The festival will wind down with three nights of free performances at the Stephen Street Car Park starting with local musician Kieran Quinn playing one of his ever-popular theme nights (Thursday, August 4) followed by The Strypes, Jerry Fish (Friday, August 5) and The Stunning (Saturday, August 6).
This of course is merely the tip of the iceberg as many other events make up the festival, all of which can be found in a downloadable version of the programme, available on www.thesligofestival.com.