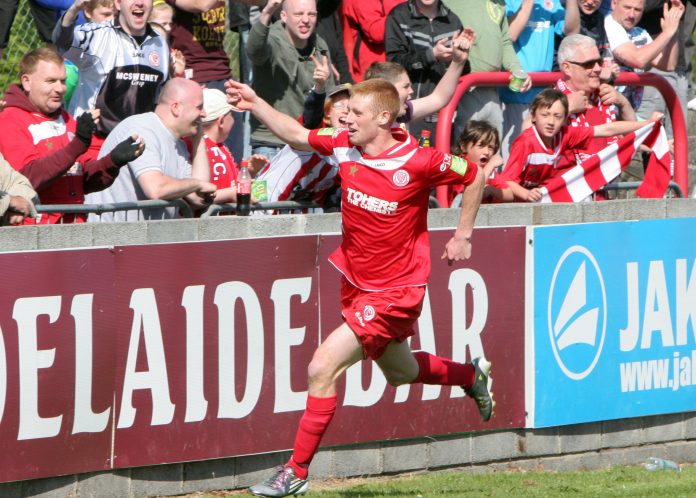 By Alan Finn
Sometimes in order to make progress in your career, you have to uproot from familiar surroundings and move to other side of the country.
Few players are prepared to swap the capital for the north west even if it means salvaging their careers, but Eoin Doyle made a defining decision when he departed a stagnating stint with Shamrock Rovers in favour of full-time football on offer at The Showgrounds.
Doyle's two-and-a-half year stay at the club produced three trophies, with the most memorable of the three undoubtedly being the 2010 FAI Cup Final.
As the season neared it's conclusion, Doyle found himself struggling to nail down a starting place on a weekly basis.
The controversial suspensions of Richie Ryan and Matthew Blinkhorn threatened The Bit O'Red's hopes, but Doyle knew he had an opportunity to seize against his former club, Shamrock Rovers.
"We were missing a couple of players through suspension and at the time I was in and out of the starting line-up, so it gave me an opportunity to play that day. When you consider the crowd and what's at stake it was an immense occasion and when it came to penalties I was so confident that I put myself forward for the first one, I knew we were going to win this and I think the hurt of 2009 was still there, so I just wanted to get up, do it and put us in front."
He duly delivered on the unenviable task of getting a penalty shootout underway with one of the calmest strikes of the day, but it was not a case of Doyle being confident in himself, he knew they had an ace up their sleeve in the form of goalkeeper Ciaran Kelly.
"It used to be so hard to score against him in training, especially when we were working on penalties, you nearly had to aim for the top corner every time, he was just so good at reading a penalty and I haven't met a goalkeeper like him since. As I said, I had that confidence when it went to penalties that we would win and a lot of that was knowing that Ciaran was our keeper on the day."
After a year-and-a-half of pleading to be utilised as a striker, it seems his performance at the Aviva caused Cook to see the light.
"As a kid I used to play up front. I was trying to convince Cookie for months that I was a striker but I think he just laughed every time. He decided to throw me in for that final and the following year was obviously when I had my best season with the club because he kept me there."
It proved to be one of his best decisions as the forward went on to become the club's top scorer in a single season with 20 goals, beating a 74-year-old record set by Harry Litherland.
"Keith O'Dwyer mentioned it [the record] to me when I was on maybe my 17th goal of the season, and Raff [Cretaro] had also mentioned it because he came close to breaking it himself a couple of years earlier. To actually get it was a wonderful achievement, I was buzzing."
For the full interview with Eoin, see this week's Sligo Weekender newspaper – in shops now!
Alternatively, you can purchase an online edition here